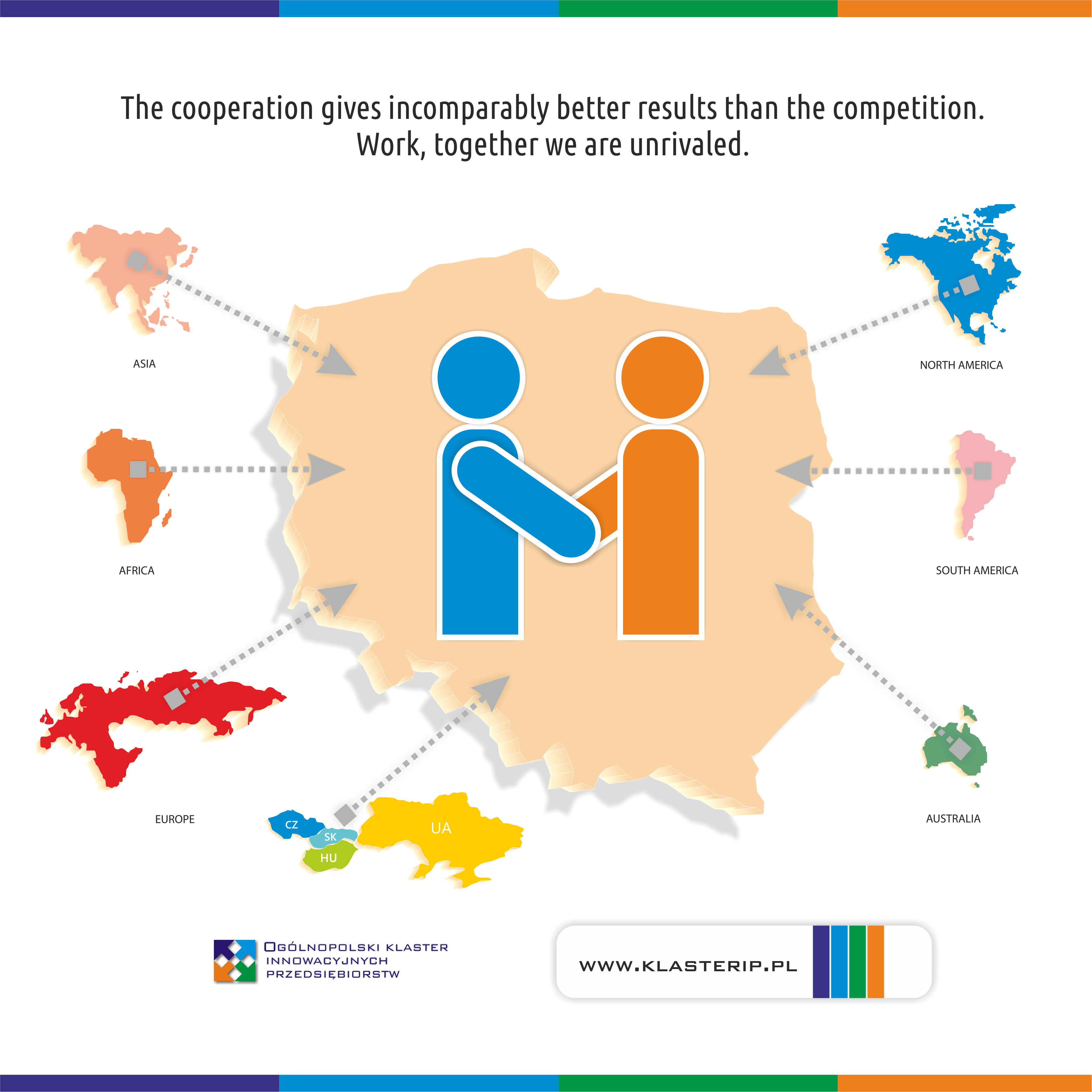 National Cluster of Innovative Enterprises is the initiator of the bottom-up program, Poland 3.0, aimed at sustainable development of Polish regions.
National Cluster of Innovative Enterprises, is a "cluster of clusters ", bringing together hundreds of entrepreneurs around him, including leading Polish company and is the only one so innovatively acting on Polish market organization. The cluster has never used external financing. The success of the organization are effectively projects, such as, among others: private jet Flaris No. 1 smart specializations of European Commission, awarded by the Minister of National Defence, as Dual-use project – the first long-range drone with jet engine, drones, special operations, operating for energy and special units. The cluster is also widely interested in energy of the future, including cogeneration, three-generation various fuels such as gas, methane, coal variations to the pellet.
It has in its impressive portfolio vehicles and vessels, powered by methane gas, electricity and hydrogen. The wide way also supports startups and technical thought, with the possibility of support in the preparation, combining potentials, promotion and commercialization, for example to implement them to a wide range of activities and projects of the cluster. In the end, it is also medical department and leading projects such as reconstruction of health back to independence, Risk Alert – adverse events in hospitals, telemedicine.
National Cluster  of Innovative Enterprises is an umbrella organization for actively managed clusters that operate in regions across the Poland. The coordinator of the Cluster OKIP the National Association of Innovative Entrepreneurs, and his troops scattered all over the Poland care about the stable development of clustering and initiate the formation of the next cluster. National Cluster Innovative Enterprises, brings together leading Polish clusters, being a "cluster of clusters", bringing together hundreds of entrepreneurs around him, including leading Polish companies.
As part of the National Cluster of Innovative Enterprises are concentrated  companies, organizations, research and development institutions, universities and business environment institutions which base their activities on a variety of upgrades become, exchange of knowledge, transfer of innovative solutions and technologies and the creation of networks. Cluster brings together entrepreneurs and institutions from the whole Poland.
Our mission is to create a platform for cooperation between enterprises and other institutions, and the effective use and combination of their potentials, in order to implement innovative solutions and technology transfer and absorption of knowledge, experience between cooperating entities, as well as making their joint action.
The main objective of the Cluster is to support innovations, improvements and inventions developed with the help of scientific and research. Consistently implemented strategy will allow for the recognition of the Cluster for innovation system creating an effective and efficient diffusion of product innovations, organizational, process and marketing.
Cluster's aim is to increase innovation of enterprises and the development of fixed, above-average competitive position, enabling persistent, gradual raising the level of competitiveness of individual regions and the whole country.
We see the potential of companies aimed at innovation, which is characterized by the high quality of operations research and dynamically developing technologies. We appreciate those, who in their activities are characterized by entrepreneurship and creativity. We see long-term benefits from increased cooperation between those who care about the development through innovation.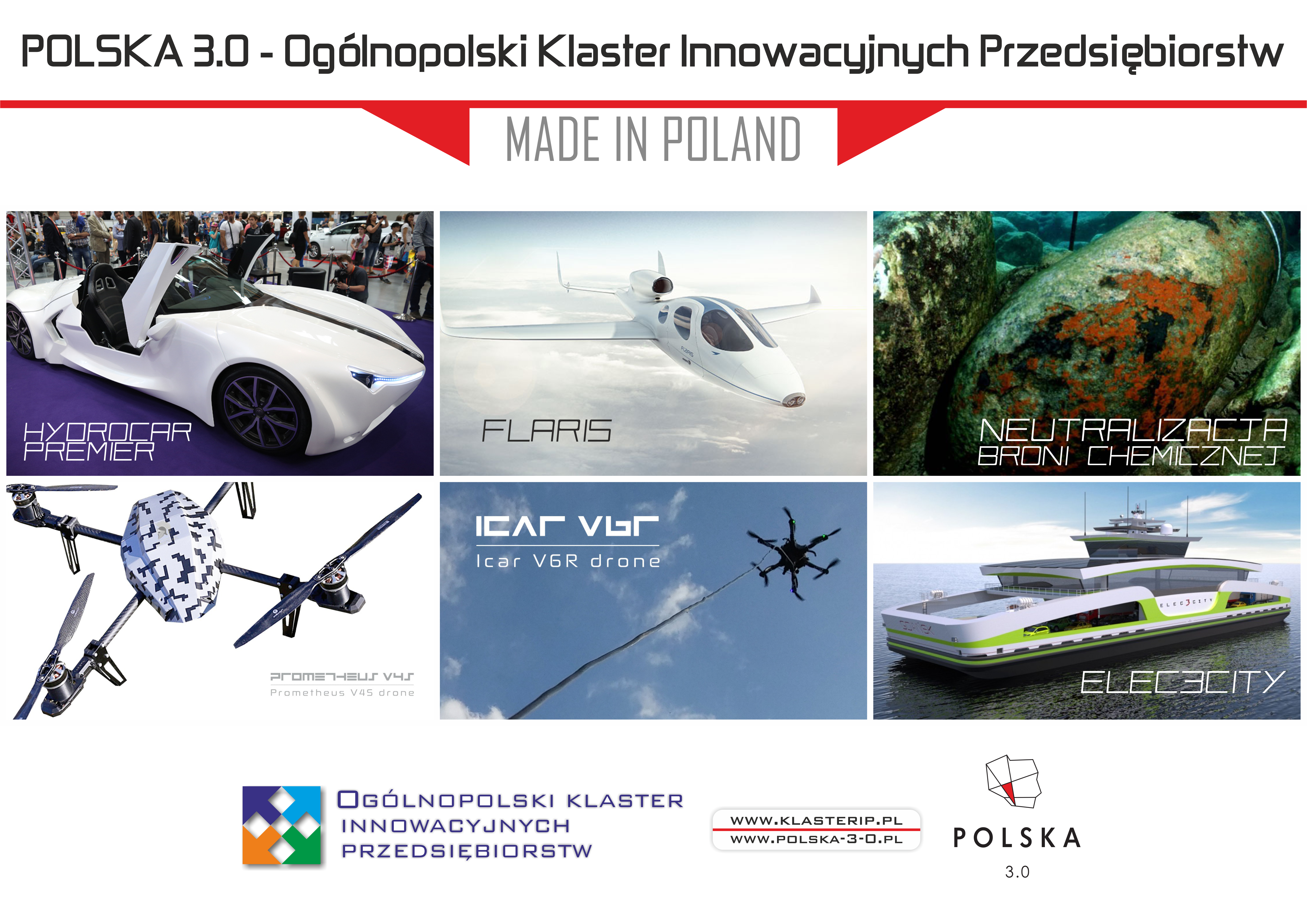 National Cluster of Innovative Enterprises was established in 2009 on the initiative of enterprises gathered in consulting agencies and PR Menu Group, which organizes events and training at the highest level, including high-level events in the Sejm, the Palace of Culture and Science in Warsaw, hotels: Marriott and Sheraton. Bogdan Węgrzynek, founder and CEO of Menu Group, organized in Poland visits of distinguished guests such as Bill Gates, Steve Wozniak, Rita Cosby and others, many sporting events, including the World Championship Ice Hockey 2012 in Krynica-Zdrój and many other events in almost all corners of the world.
Thanks to its efforts ICIE, and with it initiated his program of Poland 3.0 (the largest cluster project in Europe) supports Polish startups, business and technology ideas, helping them gain investors and new markets and helping to build a path for their development, through its ICIE action promotes the startups, joins them in organizations clustered with other entities in a specific sector, but also provides facilities in the form of cooperating universities and international centers of clusters. Therefore, we can say that ICIE supports startups at every stage of their development and operations.
Innovation at the universities of the National Cluster of Innovative Enterprises:
National Cluster of Innovative Enterprises as the first cluster in Poland undertook to promote the idea of ​​creating theses order companies on a specific topic – as it is widely used around the world. This concern is also the development of innovative ideas in line with the needs of businesses. Only such cooperation between scientific and business could cause the domestic companies become competitive against European and world companies, and thus will find it easier to get an increase in production and sales and contribute to the economic development of the country.
Managers of National Cluster of Innovative Enterprises completed the training courses on effective clustering, as the model of the world's best examples of international cooperation of clusters, economics cluster initiatives, micro and macro economics around cooperative relations, effectively connecting science and business and commercialization expertise, and cluster management at IESE Business School, which is 7. in Europe and 16. in the world the best business school.